Associate
Online Degree Programs
INVEST IN YOURSELF WITH AN
Online Associate Degree
An online associate degree from California Coast University helps you develop a solid understanding of the basic skills required in your chosen field. It's a great way to position yourself to take the next step at your job or even explore a new career direction.
You'll establish core competencies in communications and math that are directly applicable to your degree. Better yet, an online associate degree program lets you do all of this from the convenience of your home so it's less of a disruption to your work and personal life.
Balance Learning with Life
Our low-cost and flexible programs are:
Affordable

100% Online

Self-Paced

Accredited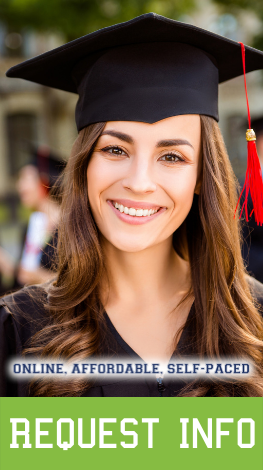 View More Online Associate Degree Program Information:

Learn more about some of the reasons why students choose CCU...

[READ MORE]
About the Online Associate Degree Programs at California Coast University:
You'll find the faculty at CCU know the trends and the skills required in order to be a success in their area of expertise. Not only does CCU work around your busy lifestyle, but we also give you credit for what you already know. If you're like most students in CCU's online associate degree programs, you bring a wealth of work experience and industry knowledge to the classroom. For this reason, we offer credit for on-the-job training, professional experience, and other qualifying knowledge.
CCU offers a number of online associate degree programs in a variety of fields including Business and Healthcare. In fact, there are six different online associate degree programs in all. Find the one that fits your career game plan and turn your ambitions into action. Are you in?
Flexible programs designed to fit into your busy schedule.
Low tuition with interest-free payment plans as low as $150/month.
Self-paced study with no group projects, set meeting times, or exam dates.
No classroom attendance requirements.
Qualified faculty and student service staff available to assist you throughout your program.
Textbook rental library.
Company tuition reimbursement program available.
10% Tuition Discount for Active Duty Military, Veterans, Law Enforcement, Fire Fighters, and CCU Graduates.
Accredited by the Distance Education Accrediting Commission (DEAC)
Cal Coast is the perfect college for working professionals.

Being provided with the flexibility to work at our own pace and reach out to university representatives whenever we have questions made for a great experience.
Explore All Online Associate Degree Programs
Click a tab to sort by field of study.